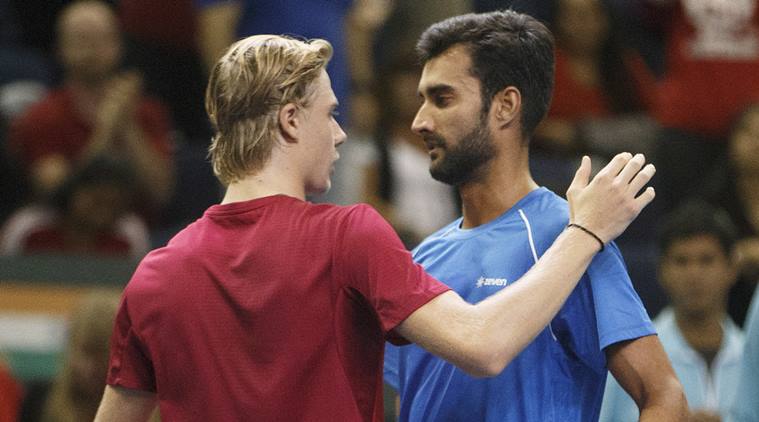 Yuki proved that his recent win over Gael Monfils was no fluke and he gave a good fight to Denis Shapovalov. (Source: AP)
Ramkumar Ramanathan fetched the crucial win but Yuki Bhambri made the day memorable even in defeat as India and Canada shared the honours on day one of the Davis Cup World Group Play-off tie.
Yuki turned the match on its head after being down by two sets and a match point in the third set but eventually lost 6-7(2) 4-6 7-6(6) 6-4 1-6 to world No.51 Denis Shapovalov — an audacious performance in a three hours and 52 minutes battle.
It happened after 22-year-old Ramkumar, ranked 154th, tamed debutant Brayden Schnur 5-7 7-6(4) 7-5 7-5 in the first singles, which was also a marathon match lasting three hours and 16 minutes.
"Boys played with a lot of heart…the plan was to fight regardless of the score and Ram swung a losing battle and Yuki almost did too," Indian captain Mahesh Bhupathi told PTI.
"The pressure remains on them. If we fight like this anything is possible."
This defeat would rankle Yuki for sometime as Shapovalov had started feeling the heat following the Indian's perseverance.
The left-handed Shapovalov unleashed his power-packed game from the beginning and Yuki was mostly left to defend but after taking the third set from the home favourite, it was the Indian who dictated the terms.
Advertisement
An early break in the fifth set again shifted the momentum in Shapovalov's favour. The Canadian found his mojo after breaking Yuki in the third and broke him again in the sixth game to take a 5-1 cushion and clinched the issue with a crushing forehand winner.
Yuki proved that his recent win over world number 22 Gael Monfils was no fluke and he give a good fight to the world's top players.
The 18-year-old Shapovalov, who recently beat the likes of Rafael Nadal, Jo Wilfred Tsonga and Juan Martin Del Potro, was playing his first ever five-set match and all credit to Yuki for making his life tough.
Advertisement
The Delhi youngster played with a lot of maturity and showed he has toughened up mentally as he hardly showed nerves despite trailing by two sets.
The games were short as the two players served even, it was Yuki who had to work harder for the points.
Playing smartly, Yuki made his serve to jump from the court by employing more of his shoulder to create extra bounce and it helped him hold serve throughout the match.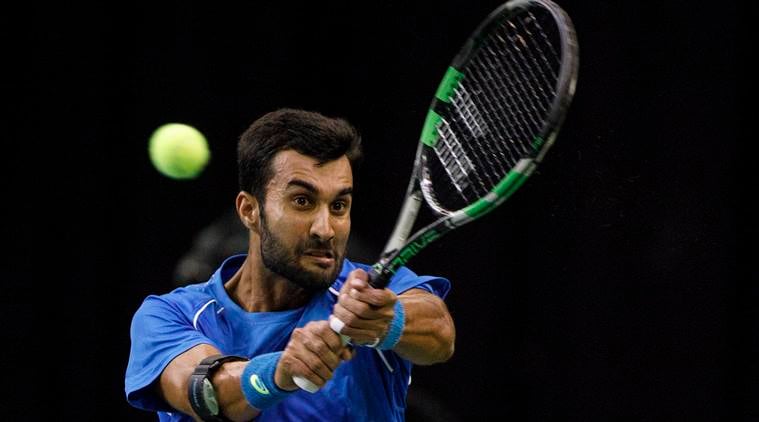 Yuki also changed his tactics intelligently in the match, trying to restrict Shapovalov's fierce forehand by feeding him more on the backhand but still the Canadian created some breathtaking service return winners.
After pocketing the opening set, Shapovalov shifted gears without fuss in the second set tie-breaker as he raced to a commanding 5-1 lead and sealed a 2-0 lead courtesy a barrage of winners that rained through his forehand.
Advertisement
The missile-like serves and equally fearsome returns continued to lash Yuki.
The Indian was broken in the first game of the must-win third set but broke immediately when Shapovalov double faulted at deuce and sent a forehand long. It was Yuki's first break of the match as he tried to make a fight out of it.
Advertisement
The Indian also targetted a few winners down the line on both the flanks by moving Shapovalov on the court. The battle grew in intensity and Yuki was eating into Shapovalov's energy with his dogged approach.
After another trade of break the set was stretched to a tie-breaker in which Yuki saved a match point at 5-6 and eventually kept himself alive by winning it.
Advertisement
As the match grew, Shapovalov started to feel the nerves as Yuki started to return much better, growing in confidence.
The Indian broke early in the fourth set and forced a decider but unforced errors at crucial juncture pulled him down.
Earlier, a dogged Ramkumar Ramanathan battled past a fighting Schnur to remain unbeaten in the Davis Cup in the 2017 season, having won all five matches he has played.
A powerful serve was the most potent weapon for Ramkumar but lack of pace in his strokes often made him vulnerable, of which Schnur took advantage many a times in the contest.
Ramkumar wriggled out of crunch situations with his gritty serving and saved as many as 15 of the 18 breakpoints which indeed titled the energy-sapping match in his favour.
More often than not, the Indian served wide and deep to the left of the Schnur, making the returns difficult, which helped him open the court for easy winners.
Schnur, on the other hand, packed a lot of power in his ground strokes and was very impressive with his swift movement and court coverage.
But the 202-ranked Canadian was hit by a crisis of confidence when Ramkumar won the second set and pulled away with the third. Schnur looked down and out, trailing by two sets to one, and down by a break in the fourth set but found energy to fight when Ramkumar dropped serve immediately.
The fourth set was littered with breaks but eventually Ramkumar sealed the match with a backhand winner, again well set up with a quality service.
Also Read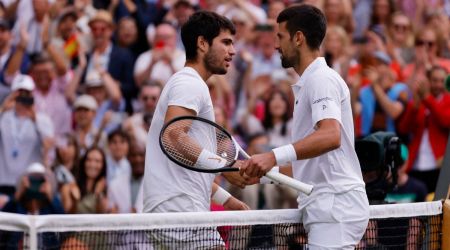 Novak Djokovic and Carlos Alcaraz set to meet again in group stage of Dav...
Watch: Jannik Sinner wins a 46-shot rally against Tommy Paul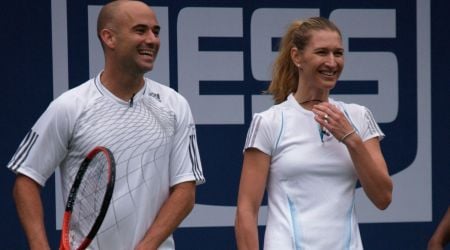 Does Steffi Graf ever age? Husband Andre Agassi has the perfect reply
'Never been friends, never been close to Roger Federer': Novak Djokovic s...
Schnur, to his credit fought well even in fourth set but Ramkumar's experience helped him clinch the issue.