Maria Sharapova's reputation as one of tennis's great battlers remained a constant. (Source: Reuters)
Maria Sharapova's contentious and captivating US Open run came to an end on Sunday when Latvia's Anastasija Sevastova beat her 5-7 6-4 6-2 to reach the Flushing Meadows quarter-finals. Playing her first grand slam since returning from a 15-month doping ban, Sharapova grabbed the spotlight with an opening-round upset of second seed Simona Halep and commanded centre stage right until the end, walking off Arthur Ashe Stadium court with a demure wave to the capacity crowd.
"It's been a really great ride in the last week," said Sharapova. "Obviously coming off a loss it's a quick turnaround in order to reflect all the positives that happened in the last eight or nine days.
"But ultimately I can take a lot from this week. It's great to get that major out of the way. I'm very thankful for the opportunity. I did my best. I can be proud of that."
After being denied direct entry into the French Open and then forced to pull out of Wimbledon qualifying due to injury, Sharapova was granted a wildcard for the U.S. Open, adding fuel to the debate about rewarding players returning from doping bans.
The debate escalated when all the Russian's matches were scheduled on Arthur Ashe Stadium's centre court.
The former world number one, however, refused to be distracted from focusing on the job at hand but could not find a route past the 16th-seeded Sevastova.
The match offered up an intriguing contrast of styles, the crafty Latvian against Sharapova's brute power and attacking instincts.
Advertisement
Sharapova had not produced extended stretches of brilliant tennis but her reputation as one of tennis's great battlers remained a constant.
"I think there are a lot of positives, playing four matches, playing in front of a big crowd and fans," said Sharapova. "Just competing, you know, being in that competitive environment. That's what I missed. You can't replicate that anywhere, especially at a grand slam.
"I think the competitiveness and the desire and the love for what I have, I mean, I think there are a lot of things that can be taught in tennis, but maybe those things just have to come from within."
Advertisement
There were few break chances in the opening set but Sharapova was able to convert the two presented to her to take a one-set lead, clinching it with a thundering ace that a flat-footed Sevastova could only watch.
It was the first set surrendered by Sevastova but the feisty 27-year-old was unfazed, hitting back with an early break in the second and fighting off three break chances from Sharapova to level the contest.
Sevastova was gifted a break to open the third when Sharapova double-faulted and the rattled Russian was broken again as the Latvian charged to 3-0 lead.
Sharapova, ever the fighter, broke back and held to cut the deficit to 3-2, putting the pressure back on her opponent. Sevastova blunted the Russian's fightback with a hold for 4-2 followed by another big break and then served out the contest.
Also Read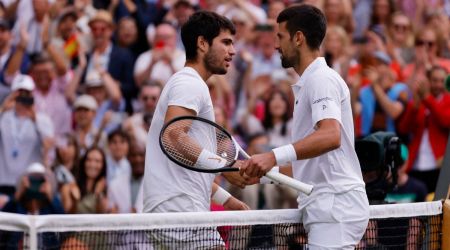 Novak Djokovic and Carlos Alcaraz set to meet again in group stage of Dav...
Watch: Jannik Sinner wins a 46-shot rally against Tommy Paul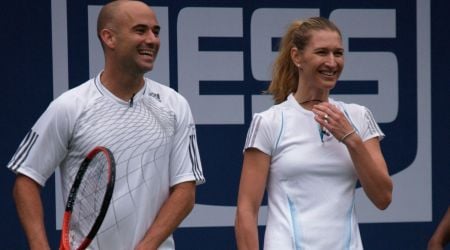 Does Steffi Graf ever age? Husband Andre Agassi has the perfect reply
'Never been friends, never been close to Roger Federer': Novak Djokovic s...
"She's got the variety. She'll make you hit a lot of balls," explained Sharapova. "She likes to play with confidence. She wins a few of those rallies, and all of a sudden the momentum changes."