Denis Shapovalov's first major tournament came last month at Wimbledon, where he lost in the first round. (Source: Reuters)
Canadian teenager Denis Shapovalov got a little taste of late-night life at the U.S. Open along the way to knocking off No. 8-seeded Jo-Wilfried Tsonga.
During the 69th-ranked Shapovalov's 6-4, 6-4, 7-6 (3) victory under the lights in Arthur Ashe Stadium on Wednesday night that put him in the third round of a Grand Slam tournament for the first time, the 18-year-old qualifier said he chatted a bit with some, um, overzealous spectators.
"I noticed a couple of guys had a little bit too much to drink. I mean, some of them were standing and, like, just talking to me as if we're buddies. I was up a break in one game, I think it was probably 40-15, I just miss a backhand. (One fan is) like, `Aaaaah. No!' I'm like, "Don't worry, man. I got this," Shapovalov recounted with a smile.
"I mean, I was just taking it all in," he continued. "Like I said, it's a dream come true to play a night match over here on Arthur Ashe. So for me, it was fun. Obviously it's not easy to play under these conditions. But I managed to put a positive spin on it."
Shapovalov is almost exactly 14 years younger than Tsonga, a Frenchman who was the runner-up at the 2008 Australian Open. This is part of quite a run for Shapovalov, who earlier this month beat Rafael Nadal on a hard court in Montreal while becoming the youngest semifinalist at a Masters tournament.
Shapovalov's first major tournament came last month at Wimbledon, where he lost in the first round. He was the junior champion at the All England Club a year ago. The only near-slip for Shapovalov against Tsonga came in the third set, when the left-hander served for the match at 5-4 and got broken for the first time all match.
But Shapovalov steadied himself and came through in the tiebreaker, finishing with 28 winners to 19 unforced errors. "I don't think I was always mentally solid as I am today. I've been working extremely hard on it. … I think it's improved quite a bit," he said.
Advertisement
"It also helps I've been in these situations constantly, playing these top guys. … It's a little bit easier the second time around and third time around. You get used to these situations."
Next up for Shapovalov is a match against Kyle Edmund of Britain. When they faced each other in the Davis Cup in February, Shapovalov was defaulted and fined $7,000 for hitting a ball in anger that struck the chair umpire in the face and broke a bone under his left eye.
That episode, Shapovalov said, "definitely helped me mature."
Also Read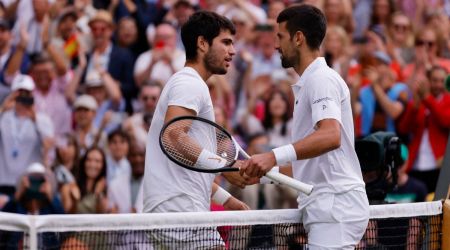 Novak Djokovic and Carlos Alcaraz set to meet again in group stage of Dav...
Watch: Jannik Sinner wins a 46-shot rally against Tommy Paul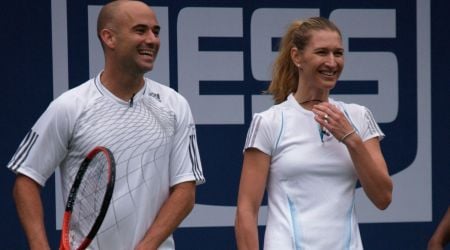 Does Steffi Graf ever age? Husband Andre Agassi has the perfect reply
'Never been friends, never been close to Roger Federer': Novak Djokovic s...
Then he added: "But I don't think this match has anything to do with it. I've apologized constantly before, and I continue to apologize for my actions. It's something I have to live with. But for me it's in the past and I'm a different person and a different player now. So it's a completely new match."