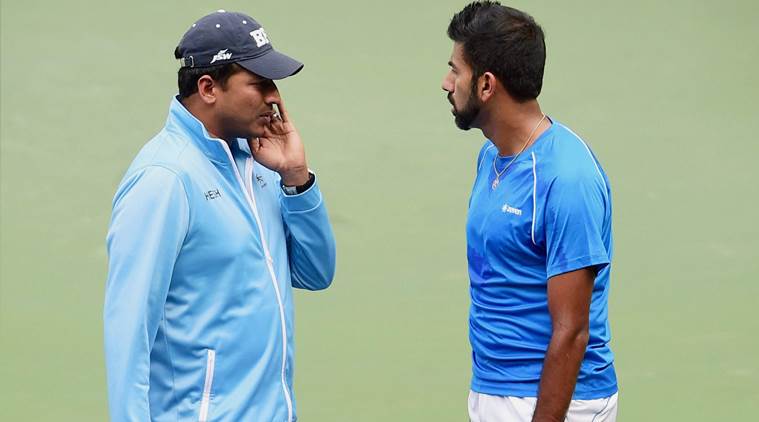 it would be up to Rohan Bopanna to make sure India get on board. (Source: PTI)
There are parallels to be drawn between India's Davis Cup World Group Playoff versus Canada this weekend and the tie against Czech Republic two years to the date. Like Canada's Milos Raonic, Czech Republic's top-ranked singles player Tomas Berdych was absent. The onus had fallen on an exciting lefty, Jiri Vesely, then ranked 40; 11 spots higher than Denis Shapovalov is now. Accompanying the rising star for singles duties was world No. 85 Lukas Rosol, a reliable hand much like current No. 82 Vasek Pospisil.
Veteran Radek Stepanek, winner of two Grand Slam titles with Leander Paes, led the doubles charge for the Czechs. Canadian Daniel Nestor, who has won ATP titles with Paes and Rohan Bopanna and has also partnered India captain Mahesh Bhupathi, is set to play his 51st tie. And like Adam Pavlasek in 2015, Canada too have a virtual unknown in the crew — Brayden Schnur — they could field in the doubles rubber to rattle the Indians.
"I personally think they are a stronger team than the Czechs when they came to India," Bhupathi said earlier this week. A lot was made of the sultry conditions and the support back home. This time, India will play in the largely unfamiliar setting of indoor courts. While the team did eke out a win last time they played indoors in New Zealand in 2015, Bopanna and Saketh Myneni lost in straight sets. Bopanna has a doubles record of 1-5 in the indoors setting. Paes is 9-1.
Though it brings but one point, the doubles rubber takes a lot of significance in most Davis Cup ties India plays, perhaps because consistent performances from the likes of Paes and Bhupathi over the years have made Saturdays less unpredictable. The four singles points usually depend on the hand dealt to the team. Unless either Bhambri or Ramanathan plays out of his skin and chips in on the first day, it would be up to India's doubles team to keep the tie alive going into Sunday or at least prevent a whitewash. Not that Bhambri and Ramanthan aren't capable of shocking their fancied opponents. The former, ranked 157, reached the quarterfinals of the Citi Open in Washington last month, beating World No. 22 Gael Monfils; the latter, ranked 180, upset World No.8 Dominic Thiem in Antalya in June.
But it would be up to Bopanna to make sure India get on board. After all, it's not asking too much of the country's best doubles player. Paes — India's most successful Davis Cupper and the joint-most successful doubles player in the event's history — couldn't make the cut for the second tie in a row due to his rankings. Save for three Challenger titles, the world No. 62 has had a disappointing year and seems to have fallen out of favour to the extent that he couldn't make it to Edmonton as part of the reserves after Sriram Balaji was injured.
There's also the incompatibility between Bopanna and Paes, and not just the off-court kind. Bopanna has time and again said that his game does not sync with that of Paes. Not that it would have mattered. Captain Bhupathi has insisted on the 3+1 composition ahead of ties and Myneni provides the desired flexibility, in theory. Since returning after a six-month long injury layoff, the 29-year-old hadn't played a lot and is ranked 665 in singles and was once again replaced by Purav Raja in the last hour before the draw, according to the Davis Cup website.
Interestingly, the doubles stalwart who'd stand across the net on Saturday is a year older than Paes. Nestor, 45, who took his Davis Cup bow in 1992, is an eight-time men's doubles Grand Slam winner. However, he has had a underwhelming season with 16 wins from 41 games and no tournament victories. Bopanna, too, has had a lukewarm run after winning the French Open mixed doubles — his first Grand Slam title with Gabriela Dabrowski, the first Canadian woman to win a Grand Slam. In the three months since, he has gone through five different partners, made the finals at the Aegon International and Rogers Cup but crashed out in the second round at Wimbledon and the US Open.
Also Read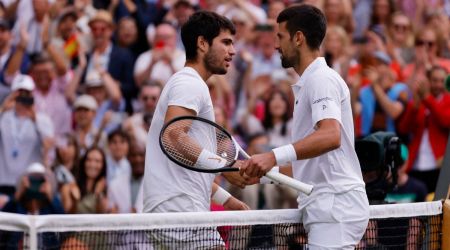 Novak Djokovic and Carlos Alcaraz set to meet again in group stage of Dav...
Watch: Jannik Sinner wins a 46-shot rally against Tommy Paul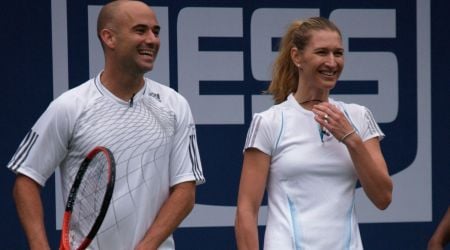 Does Steffi Graf ever age? Husband Andre Agassi has the perfect reply
'Never been friends, never been close to Roger Federer': Novak Djokovic s...Advertisement
Long the man in waiting, a sideshow in Indian tennis, Bopanna is now the most experienced player in the squad and the spotlight is firmly and deservedly on him. All he needs now is to back it up and snatch a point, like the doubles specialists before him used to do.