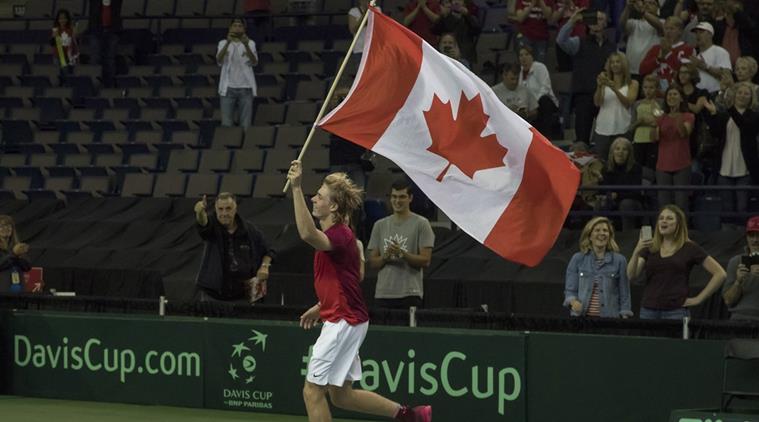 Denis Shapovalov celebrates after beating Ramkumar Ramanathan and sealing a World Group spot. (Source: USA TODAY Sports)
Sporting comparisons are, as is their wont, prone to hyperbole. However, there are aspects about Denis Shapovalov that remind one of a certain Mallorcan. The heavy topspin with which the lefty blasts his serve and forehand. The quickness with which he zips across the court. There's also the jumpy, restless energy, both on court and during changeovers, that is very teenage Rafael Nadal-like.
Then there's the history. At 18, world No. 51 Nadal beat No. 2 Andy Roddick to help Spain win their second Davis Cup title. At 18, world No. 51 Shapovalov defeated Ramkumar Ramanathan to lead Canada back into the World Group on Sunday.
Now, Ramanathan, ranked 154, is no Roddick. But the 22-year-old is no slouch either. He kicked off this weekend's playoff on a positive note, defeating Brayden Schnur to put India on the board. However, Ramanathan paid the price for not switching up his game. Shapovalov, on the other hand, came with his homework done.
During Friday's five-set win over Yuki Bhambri, Shapovalov stayed behind the baseline and won a single point at the net. Aware of Ramanathan's big forehand, the Canadian played on or often inside the baseline, rushing his opponent and picking up 11 net points. Ramanathan rarely got the time he needed to coil and set up the strokes, hitting only six forehand winners as compared to 24 against Schnur.
For his part, Ramanathan persisted with the big second serves that had overwhelmed Schnur. But while Schnur – who had never played a best-of-five match before this tie – could only convert 3 of 18 break points, Shapovalov dealt with the Indian's risky tactic, limiting Ramanathan's ace count to 5 as against 18 on Friday.
The opening set was over before Ramanthan knew it, as Shapovalov won the first 11 points and ran with the advantage. The second, however, saw the Indian settle into his groove. Ramanathan started switching between attack and defence; rushing to the net to close out points and stretching rallies by putting one more ball back. The serve percentage improved too, with Ramanthan serving out two games to love.
It's in these moments that Shapovalov looks every bit the work-in-progress teenager that he is. When under pressure, like during the match against Bhambri, Shapovalov's swing-yourself-off-your-feet, airborne groundstrokes start misfiring. Trailing Ramanathan 5-6, the Canadian blew easy closing shots on rallies and faced triple-break point.
Advertisement
"Love-40, there isn't much I can do except fight," said Shapovalov during the post-match interview. "I thought, chances are he's going to break me at that point, with three consecutive break points."
Shapovalov won 13 of the next 15 points, taking the tie-breaker 7-1. Squandering four set points took all life out of Ramanathan and it was all about delaying the inevitable. Ramnathan did so by saving a break point with a stab volley at the net. Inexplicably then, he proceeded to hush a bunch of enthusiastic supporters sitting courtside. He took the game with two more points, hushing the fans after each.
The agitated Indian then got into a needless argument with the chair umpire in his next service game, and appeared the player more likely to hit an official in the face with a ball. Upon resumption, Ramanathan failed to put away two easy backhand volleys and handed Shapovalov the break, who then served out the match.
Advertisement
"Clinching for my country is huge," Shapovalov said later. "I grew up wanting to play on the team and to help my country win this week is a huge honour. It's honestly the best feeling. I'll be back for many years to come if I am invited to play. This is right up there with all the rest of the things that have happened of late. I'm improving every day, and I still think I need to improve a lot of things." Willingness to improve is another trait he shares with Nadal. The maturity is already there. After all, unlike Spain in 2004, Canada didn't have a Carlos Moya to lead the team.
As for India, the fourth straight playoff defeat was all about missed opportunities.
Also Read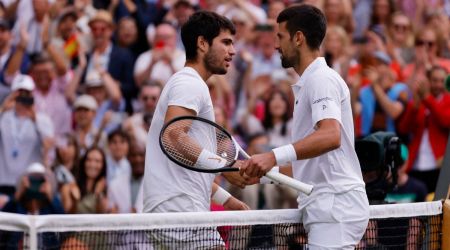 Novak Djokovic and Carlos Alcaraz set to meet again in group stage of Dav...
Watch: Jannik Sinner wins a 46-shot rally against Tommy Paul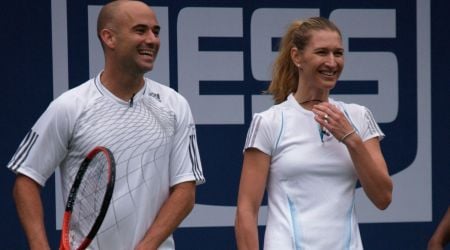 Does Steffi Graf ever age? Husband Andre Agassi has the perfect reply
'Never been friends, never been close to Roger Federer': Novak Djokovic s...
"We did not take our chances," India captain Mahesh Bhupathi told PTI. "We had few on all the days, including today when Ramkumar had four set points in the second to even the match. We worked and fought hard and we are very close to making the World Group. Next year this time, I expect both Yuki and Ramkumar to be in the top 100."
For now, it's back to the Asian zone, and the drawing board.